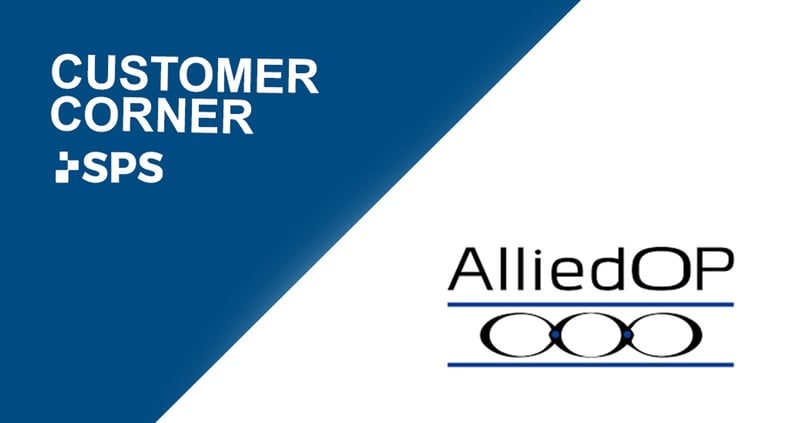 AlliedOP prides itself in offering innovative prosthetic solutions. From New Jersey to Pennsylvania, AlliedOP's 12 locations assist patients with prosthetics, orthotics—and even bionic technology. We were fortunate to have a moment to chat with Dave Coville, CEO of AlliedOP, about his thoughts on the orthotic & prosthetic industry, and approach to partnership with SPS.
Q: In general, what is your outlook as it relates presently to the O&P industry?
A: The O&P industry is changing rapidly, and primarily for the better. Technological advancements in both orthotics and prosthetics, along with an increasingly well-informed patient population mandates that O&P providers evolve to keep up with the market's demands. For practitioners, being educated and informed on "high-tech" componentry is no longer optional, it is a requirement. AlliedOP has invested heavily in the education of our practitioners, with the goal of making sure they are on the forefront of technological advancements in the industry. Hand in hand with that is compliance. Compliance requirements are not going away, and, if anything, they are increasing. Compliance improvement initiatives are time consuming and expensive, but they are essential for long term success in this industry.
In terms of the industry landscape, O&P is experiencing consolidation. Ever-increasing costs of labor and goods, combined with enhanced obstacles to reimbursement, make it extremely difficult for smaller, independent providers to thrive. Many of these independent providers are forming partnerships with larger entities as a result. Although the impact of industry consolidation remains unclear, it is our hope that the result will be an improved level of patient care – as that should always be the objective for any health care industry.
Q: With such a competitive landscape, how do you set yourself apart?
A: AlliedOP has always recognized that our employees are the backbone of our company. At AlliedOP, we strive to distinguish ourselves not only by the products we provide, but by the level of service we offer our patients. That extends well beyond clinical treatment. We always say, there are five components to the full spectrum of patient care, and they are: Physical, Mental, Emotional, Vocational, and Social. Specifically, AlliedOP has invested heavily in its Patient Advocate Program on the prosthetic side. To date, we have five amputee patient advocates on our staff, working full-time to provide patients with the full spectrum of patient care. The majority of our patient advocates started out as AlliedOP patients and later joined our team. The goal of the Patient Advocate Program is to make sure every patient we treat will have a peer-to-peer visit with a fellow amputee, who is able to relate to the patient on a level that only someone who has been through the process can. We truly believe this element of care is equally, if not more, important than the clinical care provided. Along those lines, we also regularly hold amputee support group meetings, and invite patients (and non-patients) to join our "Walk With Us" support group on Facebook.
We are incredibly fortunate at AlliedOP to have a team that truly believes in our mission, cares deeply about our patients, and is willing to consistently go above and beyond. We do our best to support the team however we can, and then get out of the way and let them do what they do best, which is change patient's lives through enhanced mobility.
Q: What is your general ethos on supplier partnership?
A: AlliedOP has always sought to maintain great relationships with our vendors, manufacturers and regional representatives, as we view these partners as instrumental in providing the highest level of service to our patients. SPS has gone above and beyond to provide prompt and quality service to AlliedOP, which translates to top-notch service for our patients. They are attentive to the needs of our business, and understand the personal touch that our patients need and deserve. SPS has also added tremendous value through its CEU program. SPS's clinical educator, Sam Brouillette, is a wealth of knowledge.
Q: What are the most notable aspects of SPS' service?
A: SPS' customer service is outstanding. Our internal customer service representative, Dawn Flake, knows our account well and understands our purchasing history. We are not just an account number to SPS, we are treated like a top customer. We have found SPS' delivery time, customer service, and purchasing platform to be industry-leading.
SPS' Clinical Services has also benefited us in many ways. Sam is a highly respected professional within the industry. Our practitioners have learned quite a bit from Sam during educational seminars, and have implemented some changes to our clinical perspectives based on outcomes that were shared during sessions with Sam.
Q: Tell me a little about your working relationship with your SPS sales rep, Nick Rozek.
A: Nick Rozek is one of the best sales reps you could ask for. He is attentive to our business, and always seems to come through when needed. Nick visits our offices regularly and has built a great relationships with not only our clinicians, but our administrative staff and management team. You would never know that Nick covers New Jersey to Maine based on his ability to answer phone calls, texts, emails from our company in an expedient manner. Nick Rozek and Jamie Seabold do an amazing job for our company, and we appreciate everything they do for us.
Q: How has selecting products for patients changed in recent years?
A: In today's world, patients often come to AlliedOP having already performed extensive research on the product they believe will benefit them the most. On occasion, patients introduce us to new products or product lines that we have not used in the past, and if our research and due diligence confirms the product meets our standards of quality and is, in fact, the best option for the patient, we always know we can go to SPS and they will typically have these products available. This relationship allows AlliedOP to offer patients a broad spectrum of products available, regardless of manufacturer, which is critical in the information age of health care.
Q: Tell us a little about yourself and your team.
A: My name is Dave Coville and my primary duties as CEO of AlliedOP is leading our sales and patient advocate team. I live at the Jersey Shore and enjoy spending time with my wife Ashley. In my spare time, I play golf, softball, and basketball.
Steve Cuff is President and General Counsel. He oversees the day-to-day operations of AlliedOP. When he isn't working, Steve spends his time with his wife, Lora, daughter Cecilia, and their two rescue dogs.
Our Chairman, Jack Nelson is in charge of driving business growth through M&A and supervising practitioner objectives and goals. Jack has his hands full with his ever-growing fleet of grandchildren.
| | | |
| --- | --- | --- |
| | | |
| Dave Coville | Steve Cuff | Jack Nelson |
Check out the entire AlliedOP team here.
Connect with AlliedOP today:
Facebook, Linkedin, Twitter, Instagram
Want to learn more about AlliedOP?