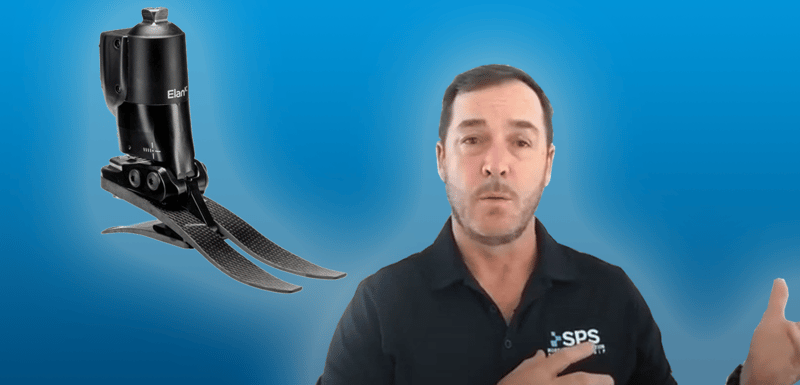 Blatchford's ElanIC microprocessor hydraulic ankle arrived at SPS after much anticipation on Monday, July 27th. We think you're going to like this new addition to our inventory. In this episode of The Clinical Minute, Sam Brouillette, CP, CFo, and SPS Manager of Clinical Education outlines exciting features of Blatchford's newest prosthetic technology.
Blatchford has kept in many of the features patients' loved from the original Elan microprocessor foot, such as:
The ability to adapt to different terrains
Dorsiflexed resistance for braking while walking down slopes
Increased plantarflexion resistance for walking up inclines
Response to speed changes
Standing support mode for resting while standing on slopes or flat ground
Three degrees of elevated toe clearance for reduced risk of trips and falls
On top of all of the great features designed to keep patients safe, comfortable, and in control, the ElanIC microprocessor hydraulic ankle expands on the Elan microprocessor foot with new functionality:
Induction charging technology: the wireless charging technology effectively seals the ElanIC from the elements.
IP67 rating: the ElanIC has been tested to be submersible up to one meter, and for up to 30 minutes. Patients can shower, walk through puddles and streams without worrying about damage to the device.

Programmable app:

program the Elan or ElanIC with the new app for Android devices, or use PC software.
Integrated Bluetooth:

connecting to Bluetooth no longer requires a dongle.
The new robust features makes it a great option for patients searching for a light and compact foot to complement their active lifestyle. If you have any questions about the microprocessor hydraulic ankle, contact your sales account manager.
Click here to review Blatchford's ElanIC brochure.
Click here to shop the ElanIC at the SPS Online Store.
Sign-up for our email list to stay up-to-date on the latest SPS happenings, O&P news, promotions and more!
Want to see more The Clinical Minute videos? Click here to visit our YouTube channel.