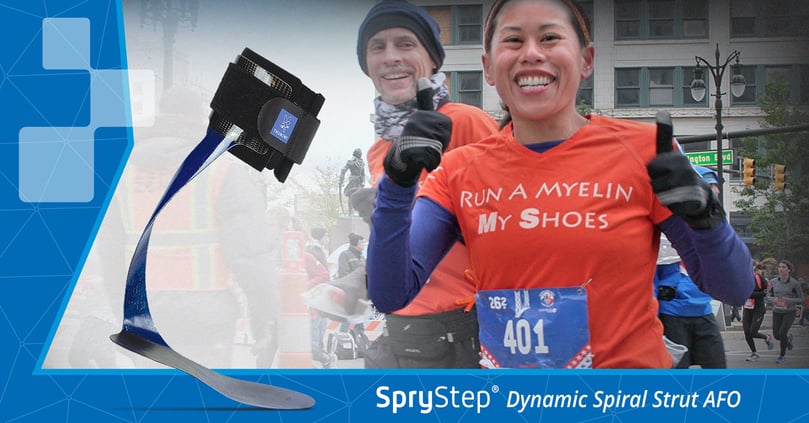 Cheryl Hile is no stranger to setting records and she doesn't plan on stopping anytime soon. Through boundless determination, plus the SpryStep AFO that allows her to keep running without the fear of falling, she has not only overcome adversity but also defied what many thought was impossible.
Braced for Running with Multiple Sclerosis
Fifty-one. That's how many marathons Cheryl Hile has run with multiple sclerosis (MS). As an avid runner for years, Cheryl and her husband have always loved to travel the world and run marathons. But when she was diagnosed with MS everything changed. The symptoms, including debilitating fatigue, muscle spasticity, neuropathic pain, and specifically foot drop, quickly halted her ability to run. Cheryl connected with an orthotist to be fit with a custom-designed orthotic brace called an Ankle Foot Orthosis (AFO) that enables Cheryl to land on her heel when running, balancing her gait.
Experiencing SpryStep® Dynamic Spiral Strut AFO
After some time, Cheryl and her orthotist found a new type of brace to try, and worked with the Clinical Specialists from Thuasne USA on her next customized AFO, the SpryStep®. After 3 months of running with SpryStep, Cheryl has been able to test its performance on different terrains, from asphalt and the treadmill, to boardwalks and even, sand. She admits that with the durability of her new AFO, she no longer feels worried about stoppage, even when she is pounding the pavement during a race or running down a hill. Plus, with the SpryStep's flexible cuff, her shin experiences greater relief and she can tackle hills with a more natural stride.
If your patient is experiencing discomfort or other restrictions from an AFO, suggest the SpryStep model to help them go the distance.

Sponsored by Thuasne Townsend USA