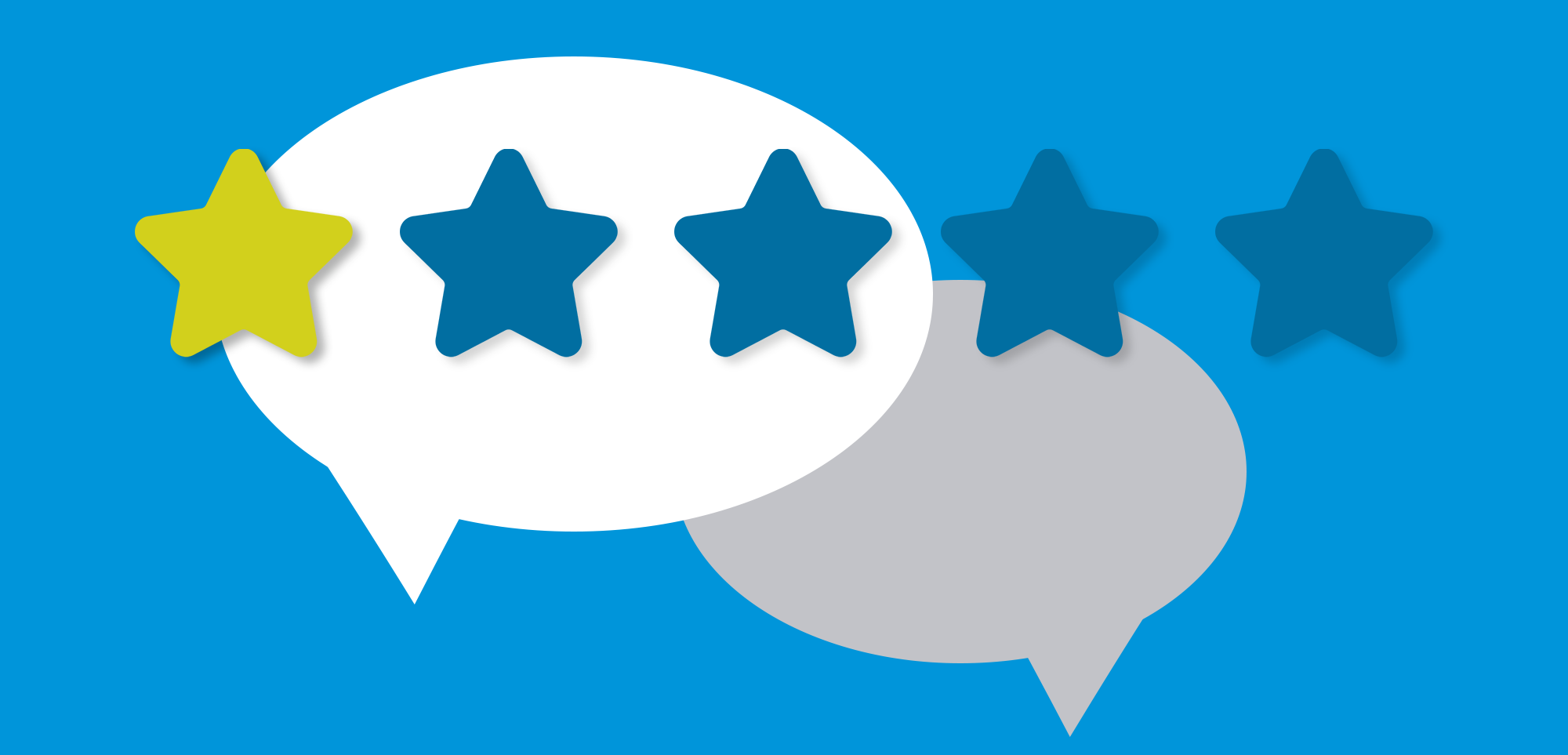 You decide to go to a restaurant, what do you do first? According to BrightLocal, if you're like 86% of consumers, you will check the business reviews online. This habit is convenient for consumers, but for those small businesses on the receiving end of those reviews, it can cause quite a bit of heartburn.
The same study by BrightLocal found that 84% of consumers trust online reviews as much as personal recommendations. Clearly, reviews have become a dependable source of information for shoppers of all kinds. When it comes to the healthcare industry, ReviewTracker found reviews have the second-highest influence with 66.3% of consumers reading reviews before choosing a new provider .
With reviews not going away any time soon, how can clinics like yours preserve a glowing reputation? It's not as difficult as you might imagine. With a little careful communication and the patience to take the high ground, you can make a bad review work for you. Read on for steps to handle negative reviews.
Step 1) Stay calm
Bad reviews can sometimes be a good thing. According to the Harvard Business Review, 95% of consumers suspect censorship and fake posts when a business has flawless reviews. If you have a sprinkling of negative reviews among a cascade of positive posts, it could be favorable by helping potential patients see your clinic in a more authentic light.
Step 2) Address the Review
Like most things in life, ignoring the problem doesn't make it go away. When a patient posts a bad review, it's best to engage with them. Responding quickly can sometimes convince a patient to stay, and demonstrates to future patients your clinic's dedication to customer service.
Not sure how to respond? The best formula is to apologize and offer to continue the conversation offline. Remember to stay HIPAA compliant when responding to reviewers.
Consider these examples:
Example 1: "I'm sorry to hear you had a poor customer experience. Please call the practice to discuss this matter further."
Example 2: "We take customer service very seriously and regret to learn that we missed the mark this time. Please contact us at xxx-xxx-xxxx to talk more about your experience."
Step 3) Remove the Review
Negative reviews serve the dual purpose of providing valuable feedback to your clinic and giving you an avenue to rectify patient concerns. Unfortunately, due to the anonymous nature of the internet, reviewers can become emboldened to leave spiteful comments that are not constructive, and sometimes flagrantly untrue. In cases like these, the ideal recourse is to speak to the reviewer offline, try and rectify their concerns, and request the patient to remove the review.
If the patient fails to contact you, and if the post is particularly foul, check the review site's policy on prohibited and restricted content. Popular review sites, like Facebook and Google, have buttons to flag comments that violate their policy standards. The post will then be reviewed and may be taken down if they deem it a policy violation.
Step 4) Be Proactive
Talk to your loyal patients about leaving good reviews on your Facebook or Google pages. If they comply, their positive reviews can bury the negative posts. Remind patients to share their experiences by posting a sign in your waiting room, or promoting reviews on your social media channels. According to ReviewTracker, a comforting trend is emerging of reviews becoming easier than ever to post, and with less barriers, more consumers are taking the time to post positive reviews.
When confronted by a negative review, remember that you can't control what people post, but you can control how you respond. Remaining calm and managing reviews professionally is key to sustaining a good brand reputation.
Love SPS? Leave a review on the SPS Google or Facebook page.