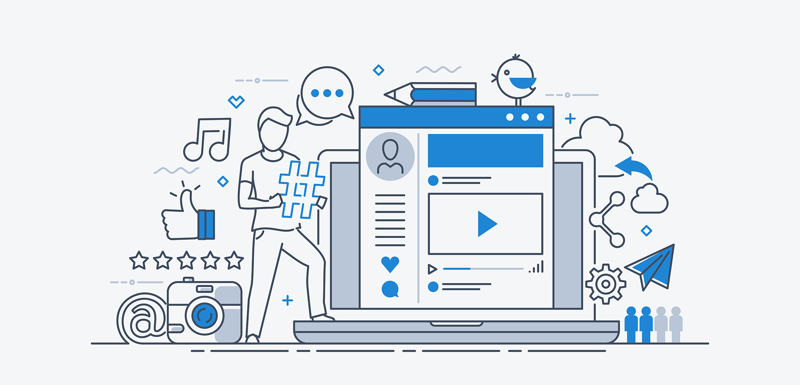 Marketing an orthotic and prosthetic clinic can be a challenge. Unlike other businesses that can market to a wide audience, O&P's target demographic is more niche. The wants and needs of your target audience are different than the general population, so traditional marketing tactics, like billboards and newspaper ads, are less effective. It's time to forget impersonal advertising and look to more digital channels. By choosing to go digital, you can:
Save money
Be more accessible to your target audience
Review analytics to optimize your strategy
Create personalized ads
In this blog series, we will guide you through social media marketing, website must-haves, and email marketing. We will begin with the basics of leveraging social media marketing for your O&P clinic. It can seem overwhelming starting out, but it's important to keep in mind that digital marketing can be phased into your overall marketing plan. After all, it's a marathon not a sprint. It's also okay to ask for help because social media, and digital marketing in general, requires time to set-up and manage. Consider hiring a little help such as a full-time marketing specialist, a part-time social media manager, or outsource to a marketing agency.
Consider Your Why
Before we begin, ask yourself what you want to achieve with your marketing efforts. Why do you want a social media channel or email marketing initiative? What is your why? It could be anything from inspiring patient engagement, attracting new patients, or increasing referrals. Whatever your driving force, it's important to have a clear motive because it will shape the content you develop and provide a framework for implementing benchmarking measures.
Before creating a social media page
How to manage a social media page
Social
According to a study by Demi & Cooper Advertising and DC Interactive Group, 41% of respondents indicated social media would affect their choice of a specific doctor, hospital, or medical facility. Love it or hate it, your social media presence, or lack thereof, is impacting your business. The good news is that social is one of the cheapest forms of advertising, and managing an online presence is easy when you approach it thoughtfully. Here is what you should do if you're venturing into the social media arena, or what you should consider if you have an established presence:
Help! I don't have a social media presence!
Before building a social media presence from scratch, check to see if you already have a business page on social media that you need to claim. Some Facebook pages are formed when a person creates a post with a check-in. In other words, a user shared their location at your business and Facebook generated an unofficial business page. LinkedIn has a similar mechanism. Perform a quick search on Facebook and LinkedIn to see if a business page already exists. If you find a business page for your clinic, then follow these links to learn how to claim it:
How to claim an unmanaged page on Facebook
How to claim a LinkedIn listings page
How do I create a social media page?
Think carefully about which social media channel is right for your business. Many business owners consider Facebook and LinkedIn as essential pages, but you may want to start with one and expand your presence later. Facebook can help you connect to customers on a personal level, while LinkedIn's strengths lie with networking with referral sources or potential employees.
Facebook and LinkedIn have many benefits, but what about Twitter, Instagram, SnapChat, Reddit, or TikTok? When it comes to social media, more isn't always better. If your clinic's social media channel will not be updated regularly, you may want to rethink venturing into social media at all.
If you have the resources to manage more than one page, then choosing the right page for your business should be approached thoughtfully. The first step is to consider your clientele. For example, if your clinic's patients skew older, than it's best to stay away from channels like SnapChat and TiTok which have a young demographic base. Another way to figure out if a social channel is right for your clinic is to look at the social presence of other players in your industry or similar industry. This can help you establish benchmarks and identify channels that work for the audience you're wanting to attract.
Once you have decided on the best social media channel for your business and checked for unmanaged Facebook or LinkedIn pages, it's time to create a profile.
Before you start, remember to be consistent across all social media channels. Try to have the same information and branding on every business profile. You will need a basic image editor to set-up a cover and profile image at the correct dimensions. Canva, GIMP, or Fotor, have free options you can use to edit image dimensions.
Click the links below to learn about creating a business page on the most common social media channels:
How to create a Facebook Business Page in 7 Steps | Entrepreneur.com
LinkedIn Pages: Action Plan for Small Businesses | LinkedIn
How to create an Instagram Page | Instagram
I have a social media page for my clinic, now what?
Congrats! You have done the heavy lifting and now you just need to build your followers. An easy starting point is to make sure you have a link to your social channels at patient touch points, such as:
Website's home page
Clinic email signatures
Marketing emails
Google My Business page
Bing Places
Flyers / brochures / lobby signage
Fateful word-of-mouth is also important. Tell patients and employees to give your clinic a follow. When you have verified that your bases are covered, it's time to figure out what to post on your social channels.
Mentioned above, we asked what is your why? This will be the basis for your content strategy. Learn more about creating a content strategy by clicking here.
The goal of creating a content strategy is to define your why and ensure every effort supports your initial goal. Perhaps you cater to a diabetic community and you would like to use social as a resource for this community. Another goal of your social media efforts could be to guide folks in a particular location to your practice. Running ads based on location could be an effective tool for achieving this goal. Whatever your why, creating content for your page is a matter of following a few essential Do's and Don'ts:
Do

Follow a general brand guideline when crafting social posts.
Post consistently, at least once per week.
Respond to messages and comments quickly and positively.
Double-check your grammar and spelling before posting.
Keep your text light and short.
Use hashtags and tag other accounts (3 to 4 hashtags are plenty)
Ask your employees to share and engage with your posts

Don't

Delete negative comments – offer to take conversations offline instead.
Share images of patients without written consent.
Steal photos – use Deposit Photos, or snap images yourself.
Use your business page as a personal social account
Criticize or call out competitors
Once you have crafted compelling posts, consider creating an account with a post scheduler so you never miss updating your page. Services like Hootsuite, Zoho, or Buffer can greatly improve your scheduling workflow. Click here for a list of content schedulers to review the best platform for your needs.
Social media marketing can be a great platform for engaging with patients and making connections. Leave a comment below if you have a question or helpful tips for managing social media.
Sign-up for our email list to stay up-to-date on the latest SPS happenings, O&P news, and more!