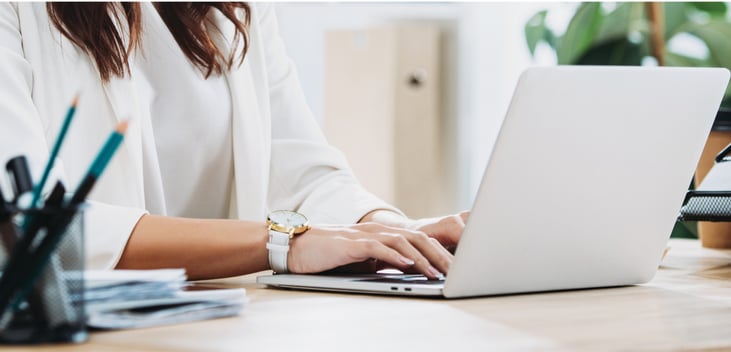 Continuing education in the orthotics and prosthetic industry is a concept that originated many years before a national accrediting body evaluated O&P education programs. Those in this industry knew that if they wanted to continue to excel in their field, they would need to adapt and grow their knowledge to produce better outcomes for their patients.
We reached out to clinical educators to understand why they believe continuing their education is an important part of the O&P profession. We also explore how education and the new Pricing, Data Analysis, and Coding (PDAC) regulations go hand in hand, and cover educational resources manufacturers are diligently working on.
Ambitious Learning in O&P is Essential
The orthotics and prosthetics field is continually changing. With evolving technologies, Medicare changes, a global pandemic, and new policy regulations, it is essential for industry professionals to stay informed and sharpen their skill set so they can answer hard questions that patients have.
"Technology is changing rapidly with microprocessors, innovative control strategies, material science, CAD software, and additive manufacturing. It is a full-time job to stay up to speed," says Michael Leach, CPO, lead R/D and Clinical Specialist at Fillauer. Leach has been in O&P for over 20 years. He has seen firsthand how technology has accelerated throughout the industry.
Without doing the hard work and staying on top of the evolution in orthotics and prosthetics, it would be easy to get left behind. It is an exciting challenge that also humbles the experts, reminding them that as long as O&P grows so does the understanding of how to better serve patients in need.
Byron Backus, CP, Manager of Lower Limb Prosthetics at Ottobock, embraces the opportunity to continue to learn more about the O&P profession. "At Ottobock, we know if you do not keep up with the changing technology and techniques, you will be falling behind in the industry, and ultimately, it's the patient that suffers." O&P professionals truly love the impact their work has on their patients and it's because of O&P patients that clinicians are driven to continue progressing in their education. Their ambition is finding answers to the hard questions and assisting their patients no matter what.
Advancing Education Standards During a Pandemic
As day-to-day life drastically changed and social distancing measures were implemented, active patients needed more help than ever and were looking to industry professionals to guide them through the unfamiliar territory. Clinics where fittings and meetings had been face-to-face were now having to leverage digital technology. Patient fittings became Zoom fittings, and clinical education credits became available virtually.
"I believe the pandemic forced the industry to advance how they interacted with patients, clinicians, and industry professionals. We always knew one day we would be taking patient calls via FaceTime, but I don't think the industry was ready. However, we adapted and now virtual communication is another avenue for us, and I think it's here to stay," says Sam Brouillette, CP, CFo and Clinical Education Manager at SPS.
The conveniences of working from home opened new learning opportunities; jumping on multiple Zoom calls through the day, and participating in daily webcasts or learning opportunities. Clinicians being able to access copious amounts of content at the click of a button has stirred a desire for knowledge in a way the O&P industry has never seen before.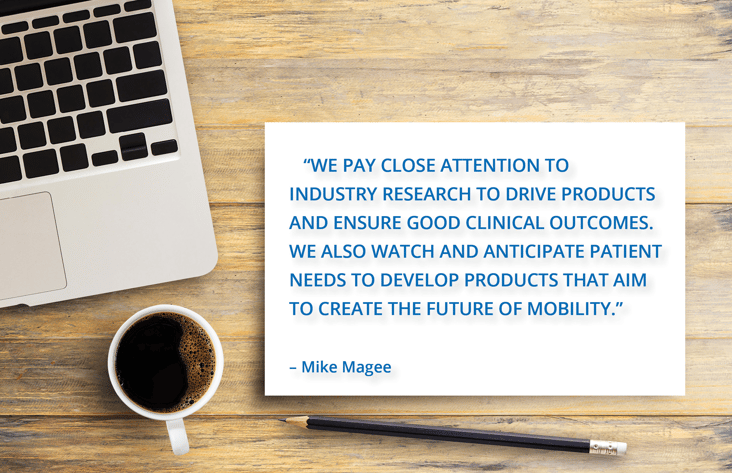 Mike Magee, CPO, FAAOP, Global Education Manager and Senior Prosthetist at Blatchford explains how they created and executed new strategies. "We immediately started evaluating how we make virtual learning more accessible and created a variety of different learning solutions," he says. Blatchford created a series of product showcase webinars where a product-specific discussion took place each week. They believed it was and still is essential to understand the patient impact, not just the product's features and benefits. Magee continues, "We revamped all of our education by rewriting in-person and online CEU and learning courses ensuring all of our courses are up-to-date with the latest research and advancements."
In order to support clinicians, manufacturers had to evolve what they created into a digital format. What seemed like a daunting task at first has now become a favorite business tool. It has created flexibility and has even increased the amount of meetings and connections happening on a daily basis. Clinicians are now obtaining their O&P education in mostly digital formats.
Ottobock converted many of their support options to virtual as well. "We assisted with trials, helping with alignment issues, one-on-one education, even assisting with fittings. In a couple of cases, our teams walked practitioners through the casting, modification process, bench alignment, and fitting of hip disarticulation patients completely virtual," says Backus. He explains how they began specializing in one-hour live online courses, once a week for prosthetics and once every other week for orthotics, completely free of charge. Ottobock made sure clinicians were still learning and sharpening their skills so that no matter how long the pandemic stretched on, they were continuing their education and receiving hours they could put towards their certifications.
With an emphasis on new or expanded digital education opportunities, there is no denying that the pandemic changed the way clinicians learned. The accessibility and flexibility of virtual learning will likely continue to play a large role in future education efforts.
Education and Resources to Better Understand PDAC Changes
Adding to the complexities of 2020, new regulation changes for Medicare and PDAC were underway. Although the requirement did not go into effect until the beginning of 2021, manufacturers began working on PDAC approval for their items throughout the challenges of 2020.
As leaders in the industry were busy creating more digital collateral, it only made sense for companies to create premium digital pieces related to PDAC. Content that gave followers immediate access to online guides that would help them understand the policy and regulation changes.
Brouillette explains how SPS prepared and educated clinicians on PDAC-related changes. "We developed very early PDAC/Prior Authorization training. We didn't just replay what DME MACs and American Orthotic & Prosthetic Association (AOPA) were sending out, but we dug even deeper. We also led and partnered with Blatchford on a webinar discussing Correct Coding of Lower Limb Prosthetics."
With so much website content accessible through smartphones, tablets, or computers, it's easy to be informed about the policy changes happening in the O&P industry. Companies are continuing to expand their resource libraries especially after 2020, ensuring their websites hold all the answers to their PDAC questions.
Many companies have included their PDAC letters on their websites for easy access and also have links to presentations or trainings they have produced regarding these changes and how it impacts their products. Some are even updating collateral to reflect these changes. Magee states, "Blatchford is in the process of creating new product charts that include the PDAC-approved label on each of our PDAC-approved products."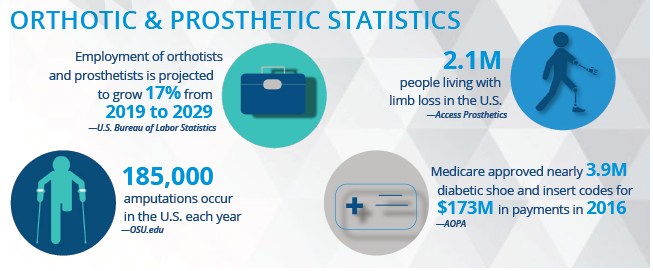 SPS and Supplier Partners Continue to Develop and Promote Education
SPS and its supplier partners are dedicated to helping clinicians understand the latest regulation changes, technology, and products. SPS has the passion and the resources to develop and offer education to the O&P industry.
Magee explains how education is part of Blatchford's core mission. "Education is always at the heart of our business. We focus our efforts on expanding our website hub with new resources. We recently launched a Clinical Evidence Finder, which brings every single piece of evidence about each of our products into one place." It has been all-hands-on-deck at most companies as they expand their resources to create collateral that is easily accessible, understandable, and enjoyable to consume. Magee continues, "our experienced clinical team has been working tirelessly on all of our educational resources so that any questions that are out there about products are already answered."
At Fillauer, Leach explains how they are also busy adding educational resources to their website. "We recently updated our website, and you will soon see an education portal. In the meantime, anyone can access our Fillauer Education YouTube channel for current offerings and to stay current on recent updates."
"Creating resources and education for clinicians is our bread and butter at SPS." Brouillette explains how he and his team member Liz Hillen, M.Ed., CPO, use all types of methods to connect with and educate customers. "We invest time, education, and technologies to be able to train or educate in the best and quickest manner. Utilizing FaceTime, Zoom, Web Connect, screen sharing or whatever is the best way to connect virtually," he says.
Brouillette continues, "At SPS, we are also looking at education platforms that would increase the user experience. As the distributer with the largest product portfolio, we are always looking to bring relevant, interesting, and well-produced educational and informational opportunities to our customers."
"Now more than ever it is important to create educational content in multiple forms. At Blatchford, we are now providing all of our courses via Zoom or in person to best meet the individual customer's needs," Magee says.
What great insight into the educational efforts being poured into the O&P industry across the country! While the past year has been full of new challenges, it has allowed the O&P industry to reevaluate what is essential and to expand their resources. Thanks to the dedication O&P professionals have put towards creating educational resources, clinicians are fully equipped to help their patients in ways they never could. Now it is up to the clinicians to use those resources or be left behind in this always-evolving field.
Click below to view the original feature in the SPS Xpress.