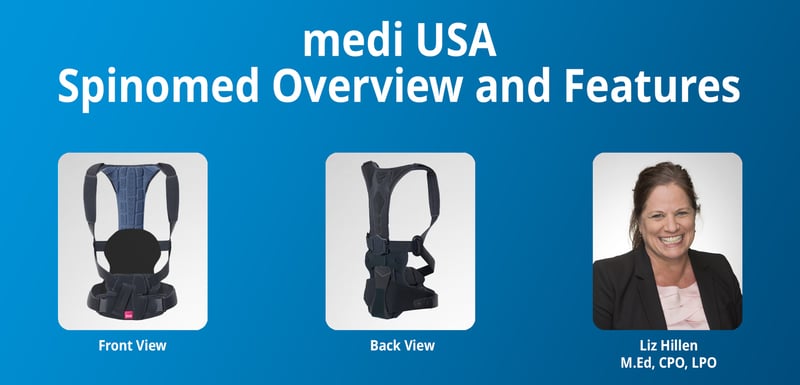 In this episode of The Clinical Minute, SPS Senior Clinical Education Specialist Liz Hillen, M.Ed, CPO, LPO, provides a quick overview of the medi USA Spinomed.
PDAC-verified for L0456 and L0457, the Spinomed brace is an evidence-based orthosis used for osteoporosis. The brace can also be used for other conditions such as hyper-kyphosis, postural instabilities, and back pain. The brace sizes range from extra small to double extra-large. This effective orthosis has been proven to increase core strength, body control, and patient confidence.
Key features:
Breathable channeled back panel for long-term comfort
Comprised of a flexible intermediate belt to ensure optimum fit
Pelvic straps with pivot joint for improved wearing comfort
Ergonomically shaped flexible shoulder straps to reduce migration
Lightweight aluminum splint that can be cold formable for an exact fit
The medi USA Spinomed is a great customizable option to help patients increase core muscle strength. For questions about the Spinomed series, leave a comment below or email the Clinical Services Team.

Browse the Spinomed today on the SPS Online Store:
Sign-up for the SPS email newsletter to receive the latest news, happenings, and promotions.