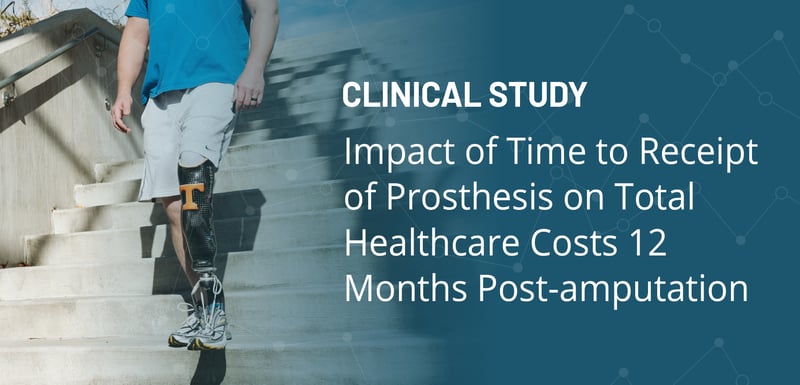 A study conducted by Hanger's IMPACT series has been published in the American Journal of Physical Medicine and Rehabilitation. The study was conducted by Shane Wurdeman and Taavy Miller, members of Hanger Clinic's Clinical and Scientific Affairs Department, along with researchers from the University of North Carolina at Charlotte's Department of Health.
We're excited to share their findings with the O&P community to assist clinicians in making informed decisions that benefits the limb-loss community from a cost perspective.
Results
Figure courtesy of Hanger Clinic
Patients who received a prosthesis between 0-3 months post amputation saved 25% in healthcare costs as compared to those who did not receive a prosthesis.
Average total healthcare costs were similar for individuals receiving their prosthesis between 4-6 months and 7-9 months, including the cost of a prosthesis and those who did not receive a prosthesis.
There is considerable economic value in providing a prosthesis prior to 10 months post-amputation, resulting from prosthetic mobility and quality of life.
Conclusion
Economic burdens associated with healthcare for those with chronic health conditions and aging population remains high.
The clinical benefits of prosthetic rehabilitation can actually serve to potentially reduce other non-prosthetic costs.
Age, Sex and Diabetes/Vascular status alone are not drivers of total healthcare costs in the 12 months following amputation.
Early delivery of a prosthesis, post amputation, is associated with reduced overall direct healthcare costs in addition to the physical, social and mental benefits of receiving a prosthesis.
Click below to read more.