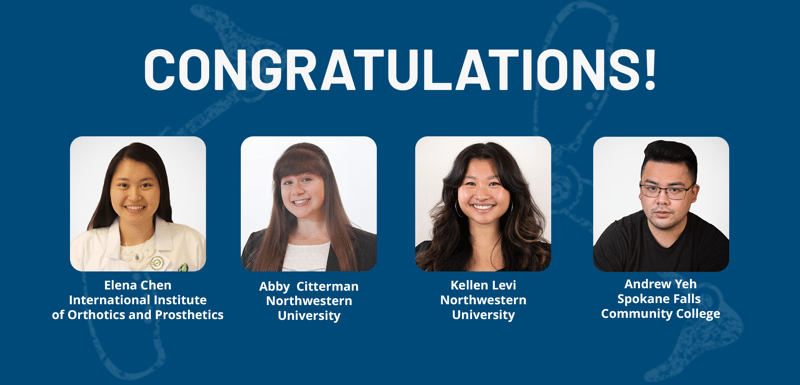 Alpharetta, GA — SPS, the leading U.S. distributor of orthotic and prosthetic (O&P) products, is pleased to announce four recipients of its 2023 SPS O&P Scholarships:
Elena Chen, International Institute of Orthotics and Prosthetics - SPS O&P Master's Scholarship
Abby Citterman, Northwestern University - SPS O&P Master's Scholarship
Kellen Levi, Northwestern University – SPS O&P Master's Scholarship
Andrew Yeh, Spokane Falls Community College – SPS O&P Technician Scholarship
The students were chosen based on their outstanding leadership, academic achievements, and written essay submissions, and will each receive $2,500 for their studies.

"The talent coming into our profession is impressive," noted Coleson Chase, Vice President & General Manager of SPS. "While we had planned to award three scholarships this year, after carefully evaluating the caliber of student applicants this year, we made the decision to select four deserving students."

SPS would like to thank all the students who applied and is proud to be partnering with these future O&P leaders.

About SPS
SPS is the leading distributor for orthotic and prosthetic products in the United States. SPS offers over 400,000 O&P products to choose from including the latest technology in prosthetic feet, prosthetic knees, prosthetic liners, and orthotic devices. Through its strategically positioned distribution centers, SPS can provide thousands of clinics their O&P products within a day or two, enabling them to quickly and efficiently provide for patients. For more information, visit SPS' website at www.spsco.com.
Select the button below for updates coming soon about our 2024 scholarships: