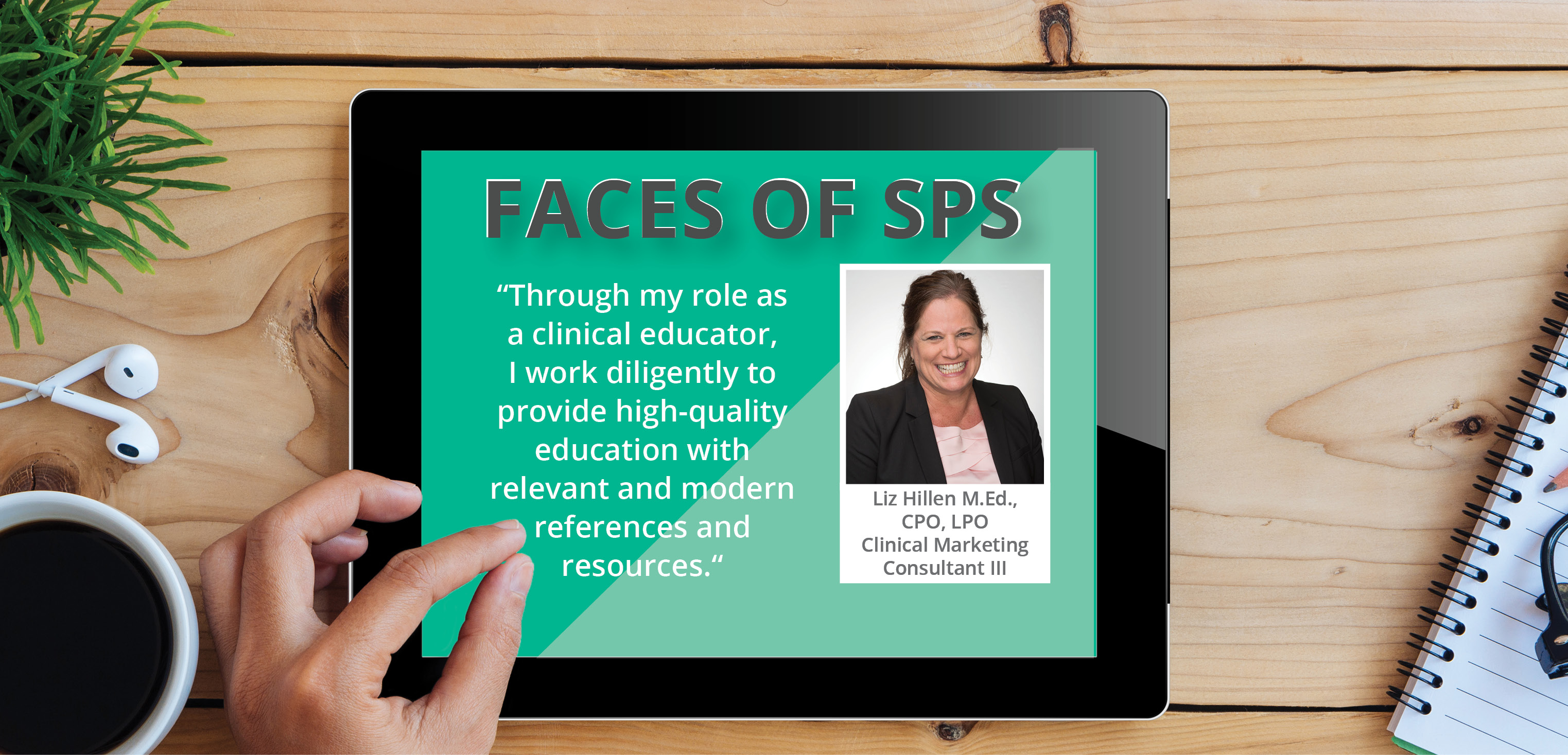 Liz Hillen joined SPS in 2019 as a licensed Prosthetist and Orthotist and Clinical Specialist with over 25 years of service within the O&P industry. She provides up-to-date developments of orthotic education as well as supports and educates on prosthetic technologies.
What do you love about your job?
My current role at SPS offers me the opportunity to have an extensive and high level knowledge of various technologies, innovations, materials, interfaces, componentry, and unique orthotic and prosthetic devices used in the O&P field. In turn, this affords me more opportunities to advance my skills and versatility as a clinician and educator.
How did you join the O&P industry?
Before entering the O&P industry 20 years ago, I worked in the physical therapy, wellness, and sports medicine realm. Through my work at an inpatient and outpatient physical rehabilitation hospital, I realized that my extensive art background and my love of physical medicine and rehabilitation combined with my innate desire to help people could merge into a career. It was destiny that I became a Prosthetist Orthotist, and I feel honored to fulfill my passion every day!
Why do you believe continuing education is important in the O&P industry?
The advancements in microprocessor technologies, mechatronics, material sciences innovations, clinical research and evidence-based medical protocols and techniques continue to evolve. I believe continuing education is imperative and an absolute necessity for O&P clinicians who want to provide safe, effective, and high-quality patient care.
How do you encourage those in the O&P industry to stay updated on news, trends and education?
Through my role as a clinical educator, I work diligently to provide high-quality education with relevant and modern references and resources. Through continuous clinical collaboration, I can share such resources while co-leveraging excellence in healthcare education and performance.
What is one of your favorite O&P education resources?
My favorite O&P education resources come from clinical experts presenting at annual O&P educational conferences. I love to learn relevant clinical and biomechanical data and gain knowledge on clinical experiences with specialized clinical case studies.
Click below to view the original feature in the SPS click below: