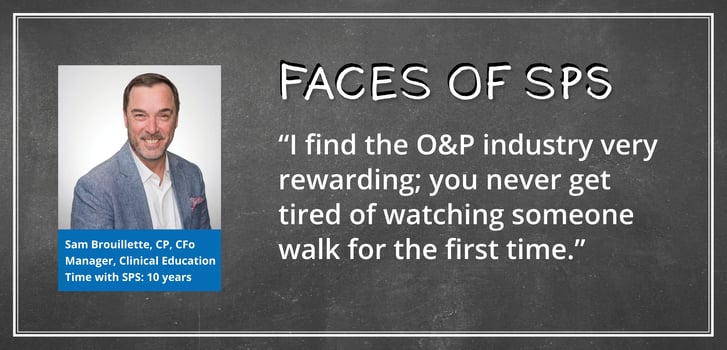 Sam Brouillette, CP, CFo celebrated his 10th work anniversary here at SPS this year. Sam serves as the Manager of Clinical Education, where he travels all over the United States, educating clinicians in the O&P industry.
For this Xpress issue, we decided to lob a few softball questions so he could share his experience of working at SPS:
What do you love about your job?
I love the people I get to work with, both my coworkers at SPS and our customers. I find the O&P industry very rewarding; you never get tired of watching someone walk for the first time.
What drove you to work for a distributor?
I liked working for a manufacturer, but I realized I had a desire to work on the distribution side after teaching classes and seeing the products before they launched. Mostly, interacting with people and products regularly because it gives me the opportunity to create long last relationships with clinicians.
How did you adapt to the distribution side?
In the beginning I traveled a lot and loved it! On Average, I fitted 10-15 microprocessors a week, and I was teaching constantly.
How have you grown since starting at SPS?
I started in August 2010 at SPS, I traveled 125% my first year. I learned how to work smarter and tackle challenges head-on. In 2018 I took over as a Manager of Clinical Education. In using technology we have reduced travel by 25%. Now my team spends time connecting with clinicians digitally.
Anything else you would like customers to know?
I'm on the clinical team, and our team has over 50 years of experience together. Our SPS clinical team strives to be an unbiased resource to both our customers and coworkers. If we don't know the answer, we will find it. If you need help, send us an email at clinical@spsco.com.
View the original feature in SPS Xpress