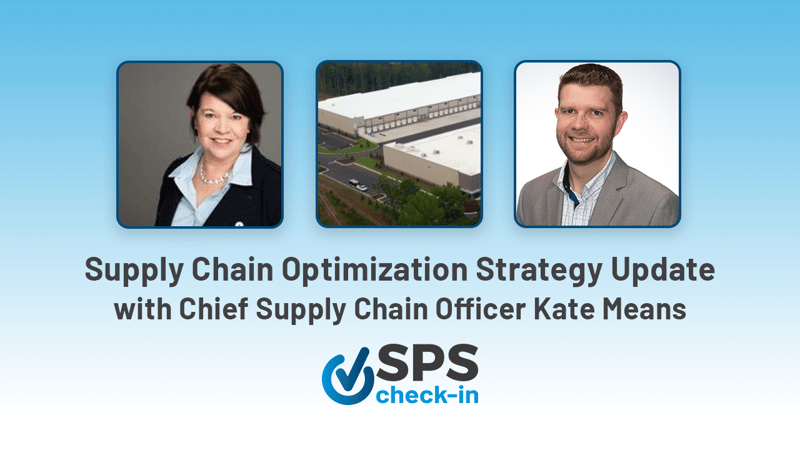 The SPS Check-in features news about SPS, the O&P industry, business trends, and changes to the regulation environment. In this episode, Vice President of Operations Coleson Chase chats with Chief Supply Chain Officer Kate Means to review our supply chain optimization strategy and the state of the supply chain industry.
The following includes a lightly edited transcript of their conversation.
Coleson

: Hi everyone! I'm Coleson Chase, and I'm joined today by our Chief Supply Chain Officer Kate Means to share some of the latest updates about our Supply Chain Optimization strategy. Welcome, Kate!
Kate

: Thanks, Coleson. It's great to be here.
Coleson

: Since it's your first time joining us on The SPS Check-in, could you tell everyone a little about yourself?
Kate

: Sure, Coleson. I live on a small lake in Georgetown, Kentucky, just north of Lexington with my husband and dog. A prior position brought us to Kentucky from Boston and we just fell in love with the area. Prior to joining SPS, I was with McKesson where I was responsible for their 3PL Operations. I had the unique and very honored opportunity to work side-by-side with Moderna to bring the COVID-19 vaccine to market. Before McKesson, I spent most of my career assuming leadership roles in transitioning divisions or projects within Osram Sylvania. In many of those roles, I had global responsibilities which allowed me to travel all over the world. When I was looking for a new opportunity, I met with this leadership team. The leadership team's passion for their patients and employees was clear in all of my discussions and I knew immediately this is where I wanted to be.
Coleson

: It's been great getting to know you and I'm glad we're able to introduce you to our customers.
Let's talk supply chain. Back in January, we announced our Supply Chain Optimization strategy. Give us a quick recap on how that is going.
Kate

: Certainly. There were several objectives of the strategy. First and foremost, the goal was to improve the experience of our customers so they could maximize time spent with patients. Our distribution center consolidation allowed us to increase the number of SKUs stocked in our Alpharetta distribution center, reducing the number of shipments per order clinicians needed to wait for, track, and receive. We also moved our custom orthotic fabrication to the distribution center so the inserts could be paired with shoes prior to being sent out. And perhaps the biggest lift was implementing the Warehouse Management System (WMS). This system provides the foundation for us to continue to deliver cost effective patient-centric solutions for our customers.
I can confidently share that it is now going well. We had some bumps in the road early on which affected our quality and service. Besides the challenges you would expect while implementing significant changes, we were facing some of the same challenges many other distributers were facing in the market such as the continuing impacts of COVID-19 absences, supply chain disruption, and a tough labor market. Through it all, our dedicated team never lost their way. They stayed committed to making sure our clinician customers had what they needed for their patients. I am happy to say that both the system and operation are stable and continue to improve every day.
Coleson

: Looking at it from a customer's perspective, how have these changes helped our service levels?
Kate

: We're seeing some of the transportation numbers are coming up. I'll be honest, it will be a long time before any of the carriers get to pre-COVID rates. We've seen our transportation numbers now over 93%. We're also seeing a 25% improvement in the number of shipments from customer's home distribution centers. This means customers are getting fewer invoices to process and a shorter transit time. All of this adds up to backroom process savings and reduced costs.
Coleson

: Taking a step back, supply challenges greatly impacted the O&P industry last year. Are we still wrestling with those challenges?
Kate

: I would say we are still wrestling, but I think we're getting a little better at wrestling. Our challenges have really shifted, but not necessarily gone away. The entire supply chain has yet to recover from shortages. These shortages start from the materials needed to make products, through the finished goods we deliver, and the capacity to get them delivered. As we know, the constrained capacity and fuel have also resulted i

n double digit inflation,

which we are all looking for ways to address.
Although there has been some relief the past few months, container capacity is still extremely tight and carriers, both long-haul and local are dealing with labor challenges.
In addition, many manufacturers are still challenged by labor availability or disruption in production because of lingering COVID-19 outbreaks. It is not at all unusual for manufacturers to revise their delivery dates several times before something shows up at our dock. Although some of those delays are small, cumulatively from the beginning to end, it's significant. We're doing everything we can to make sure that we have what we need in-house, so when customers place an order, we're able to get it to them quickly.
Coleson

: So what can our customers be doing to counteract the ongoing supply challenges?
Kate

: Our Procurement team remains focused on making sure that customers have options. We will continue to do our best to keep all items in stock, but from time-to-time there may be gaps. I encourage customers, if they don't already know similar alternatives, to contact Customer Service and ask those questions.
For frequently used off-the-shelf items, keep a few more on the shelf and order less frequently. This will allow customers to place fewer orders and save on freight costs. For those items that need to be ordered for a specific patient, place that order as soon as you can. This helps in two ways. If the item is not stocked in their primary distribution center, it gives the alternate distribution center additional transit time. It also increases their utilization of ground versus air. That cost difference is substantial and can add up.
Coleson

: Anything else you want to add that we didn't touch on?
Kate

: Sometimes I wish we could have all of our customers in to meet the team. I just want them to know that all the work we've done is really just the foundation. The changes are allowing us to have better data, better systems, and processes. The distribution team comes in every day ready to make sure shipments get out to customers, so customers can take care of their patients. All of this work is positioning us better for the future. We thoroughly understand our role in the supply chain for the O&P patient and we are fully committed to making sure we continuously improve.
Coleson

: Thanks Kate. A lot has changed in the months you've been with us. I appreciate the impact you've already made and will continue to make in the years to come.
With that, thanks to you, Kate! I appreciate you joining me on The SPS Check-in today.
Kate

: Glad to be here. Thanks, Coleson.
For questions about our supply chain optimization strategy, please connect with your Sales Account Manager.
Sign-up for our email newsletter to receive the latest news, happenings, and promotions from SPS!
See also:
SPS Check-in: Supply Chain Optimization