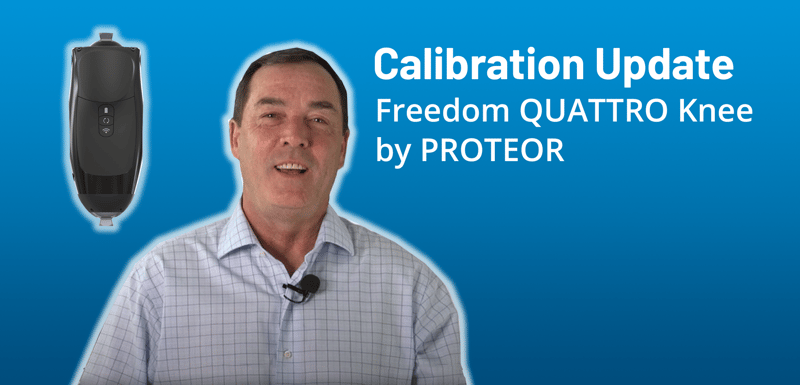 In this episode of The Clinical Minute, Sam Brouillette, CP, CFo, and SPS Manager of Clinical Education gives a quick overview of the latest Quattro microprocessor knee app update.
You may have received an update notification through the Quattro app. If you did not receive the notification, you can find the update in the Tools settings.
Before the update, calibration consisted of the following three steps:
Step 1: Quattro unloaded

Knee out to the side and fully extended.

Calibrates minimum for load and torque sensors.
Step 2: Knee loaded
Quattro automatically locks flexion, allows full extension.

Middle light illuminates white.

Ensure patient is standing upright, not leaning forward or backward.

Calibrates maximum for load sensor.

Step 3: Walking with knee locked

Select Ready after patient takes first prosthetic step to start the timer.

Calibrates maximum for torque sensor.

If the patient scuffs the toe or stops and/or turns, it may fail calibration.

Step 3 presented challenges for low K3 patients or potential K3 users who found that walking on the locked knee in the app's time constraints was difficult. They would hesitate, scuff the toe, swing-out too far, or turn. If the app couldn't capture continuous walking within the time frame, it would result in a failed calibration.
The New Update (Step 1 and 2 - no change)
With the new update, the timer is turned off during step 3 to allow for continuous walking until enough consistent steps are recorded. Low K3 and potential K3 users may use parallel bars if required.

The update may require the patient to take a few more walking steps, but overall calibration will be easier to complete.
For questions about the Quattro microprocessor knee, leave a comment below or email the
Clinical Services Team
.

Click the button to shop the Quattro microprocessor knee at the SPS Online Store: