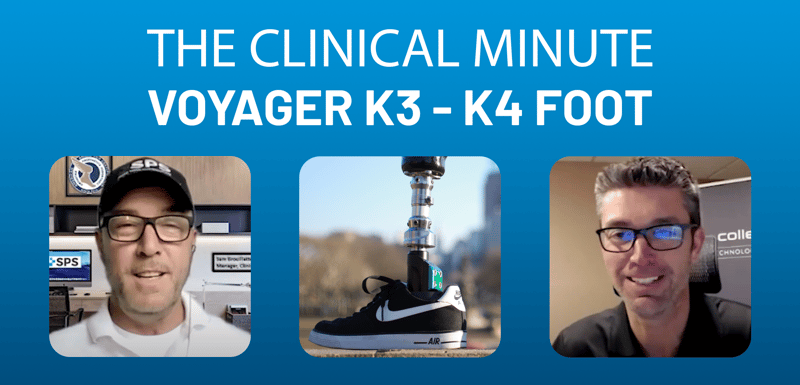 In today's The Clinical Minute, video, we're joined by College Park's Clinical Education and Tech Services Manager John Cook, CPO, to talk about the Voyager K3 – K4 foot.
The Voyager from College Park is a vertical shock foot that is PDAC approved (L5987 & L5984), and comes in the size range of 21 – 30 cm. This foot has two maximum weight categories: 275 lbs weight limit for 21 – 25 cm feet, and 330 lbs weight limit for 26 – 30 cm feet. The foot is 7.5 inches of titanium and stainless steel, and the Voyager's adjustable, built-in unit offers a maximum of 20 degrees of internal and external rotation.

One unique aspect of the foot design is the fusion of two different composites. The upper spring consists of Intelliweave glass composite technology and the base spring is made of carbon fiber. Intelliweave allows the foot to be much more flexible for better vertical compression. The flexibility also supports frontal plane movement. The carbon fiber base spring provides efficient energy return, transferring motion to the upper spring.
Another valuable feature of the Voyager foot is the torsion unit can be adjusted by the practitioner. Clinicians can use a four millimeter wrench at the top of the pyramid to increase or decrease resistance.
Finally, the water-friendly Voyager foot is ready for summer with its sandal toe foot shell that comes in four color options!