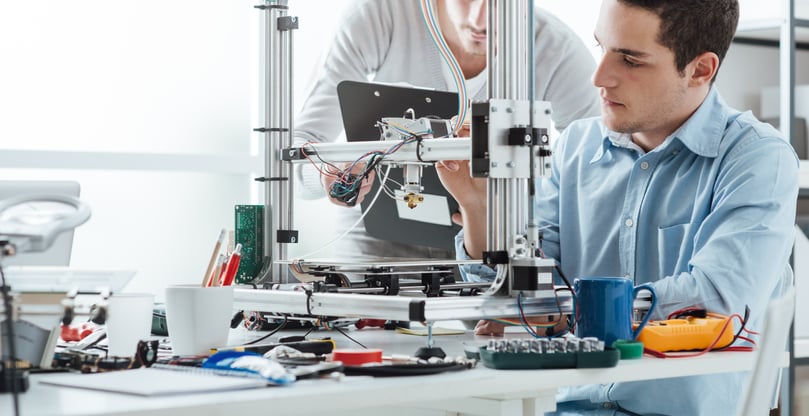 In the medical field, 3D printing is expected to be worth $3.5bn by 2025. Despite this technology's wide variety of medical applications, 3D printing is mainly popular in dentistry and biomedical engineering. With the 3D printer's accessibility and relatively inexpensive costs, why isn't 3D printing more widely used in O&P? In part one, we explored the history of 3D printing in O&P. In part two, we will explore the barriers clinicians face to adopting this technology.
Safety
One challenge has emerged from hobbyists using 3D printers to create prosthetic devices. This 'maker movement' that designs and produces DIY prosthetics has resulted in safety concerns over the durability of these devices from both clinicians and the public.
One example has come from a testimony of a child receiving a crumbling prosthetic device on Christmas day, which has led many professionals to feel apprehensive about the practicality of this technology. But as hobbyists are operating in the Wild West, the benefits of this 3D printing is still worth exploring. As more clinics pair expertise with technology, it will be interesting to see how the O&P industry transforms.
Costs
According to Sculpteo's 5th edition study, The State of 3D Printing, budget and physical space is cited as one of the biggest barriers to adopting this technology in North America. The same study also cites North Americans as the most optimistic about the potential for 3D printing.
Today, a suitable 3D printer for a clinic can be obtained for $2,500 - $5,000. Add the cost of labor and time expended to onboard the system, and 3D printing becomes a big investment. Not to mention, the cost of a 3D printer capable of printing metals, like titanium, can costs from $1M - $3M.
For clinicians, the prospect of creating highly customized devices quickly and cheaply is attractive, but committing to learning the system and adopting new processes could be overwhelming. After all, what good is a $5,000 3D printer if nobody knows how to use it? Luckily, resources are available from companies like Create O&P and Vorum that can guide a clinician through the process and even provide consultations.
Another avenue for implementing 3D printing is to look towards the labor force. At SPS, we are gratified to see many Master O&P students submitting to our annual SPS Student Scholarship. A great deal of submissions outline a passion for 3D printing technology and an eagerness to incorporate their educational backgrounds into their future workplaces.
Regulation
Regulatory agencies, like the FDA, are confronted with the difficult task of managing custom-made 3D medical devices. The delicate process of printing devices can be compromised by factors like fluctuations in heat and material quality, so ensuring each custom-made device is safe for patient use is a unique challenge. Regulators require manufacturers to provide minimum and maximum sizes for the customized device and test the design boundaries. But even when a business complies with these national regulations, state regulations could be different. Navigating the regulatory minefield is difficult, especially when the regulation is new and evolving.
Regulation has always lagged behind innovation. When considering implementing 3D printing, it's best to weigh the cost and regulatory landscape against the benefits before jumping in.
Final Thoughts
3D printed prosthetics' reputation, costs, and regulatory concerns are real challenges, but every day the 3D printer is becoming a more viable and cost effective option for clinicians. In the next segment, we will explore the benefits of producing 3D printed prosthetics.