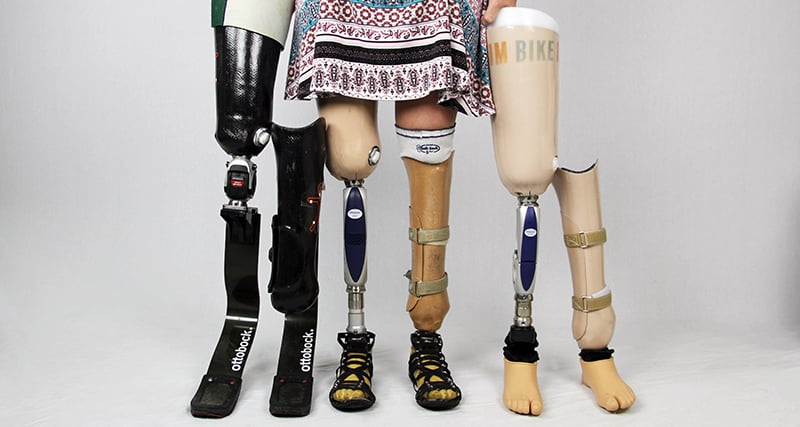 Tanya Khvitsko is originally from Belarus, a tiny country near Ukraine. She was born four years after the Chernobyl accident that happened in Ukraine in 1986, and because of that, she was born with some deformities. In 2013, she became an athlete. She's a double blade runner now, and she's run many 5Ks, many half marathons and full marathons. "I'm unstoppable!" Tanya exclaims.
She uses the Soft-Sock Prosthetic Sock mostly for everyday wear. In her case, the Soft-Sock is used to fill the space and protect her skin from the prosthesis. It also has IONIC +™ to wick moisture away from her skin and inhibit odor.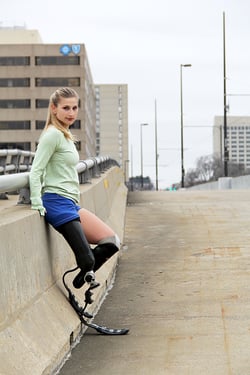 "Soft-Socks are used like any other socks. You wear your socks under your shoes. I wear my Soft-Socks under my socket. The best part of the Soft-Sock Prosthetic Sock is that they feel soft and cuddly worn next to my skin," Tanya explains. This was especially important for her during her pregnancy because her skin was so much more sensitive than usual.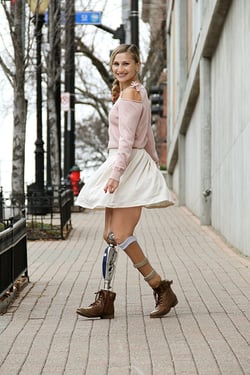 The knit-in "Eye-Hole" reinforced distal hole option of the Soft-Sock has no added thickness and minimal stretch, which is great for amputees who wear a prosthetic with a pin-lock system.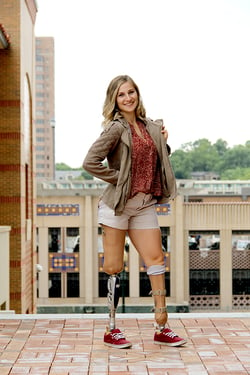 The Soft-Sock comes in black polyester, COOLMAX white, or IONIC+ silver, and Tanya likes to wear all three colors depending on what she's wearing and what kind of activity she's doing. The non-roll top looks great, keeps the sock in place and eliminates bunching, which is especially helpful to Tanya when she's participating in physical activities.
The Soft-Sock multi-pack comes with six lightweight 1-plys, three 3-plys, and three 5-plys in either black or white. These multi-packs are a great starter pack for new amputees to effectively manage their limb volume.
Learn more about the Soft-Sock prosthetic sock:
See also:
Knit-Rite Liner Liner Sock Provides Patient with Lifelong Comfort
The Clinical Minute: Knit-Rite Liner-Liner Prosthetic Sock Overview with Jak Kesselring, CO, MSPO
The Clinical Minute: Knit-Rite Soft-Sock Multi-Pack with Jak Kesselring, CO, MSPO