Knit-Rite's torso interface collection is designed specifically for kids, teens or adults who wear body jackets or back/abdominal braces, including spinal orthoses for scoliosis. The collection features a variety of styles to accommodate different braces including V-neck tanks, crew neck tanks, and strapless shirts, all knitted seamlessly with lightweight materials for maximum comfort. The variety in styles makes Knit-Rite's torso interfaces so versatile to wear with any orthoses or outfit.
Knit-Rite also offers options with left or double axilla flaps, which provide additional coverage to prevent rubbing from contact with the brace under the arms. "After trying several shirts, the Lightweight Torso Interface V-Neck Tank with Double Axilla Flaps has been the best to wear under the brace. The under-arm flaps are especially helpful," said Knit-Rite customer, Alicia D.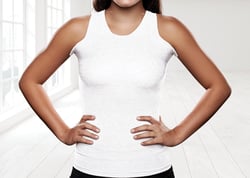 An infant turtleneck interface for the Mehta Procedure is also available from Knit-Rite. "We love these shirts!" exclaimed Knit-Rite customer, Jenn. "Let's be honest, no parent wants to deal with a Mehta cast, however, we love being able to give our son the comfort of a shirt that prevents runs on his arms and hip areas. It's very stretchy, making shirt changes much easier than I expected and it's soft on the skin!"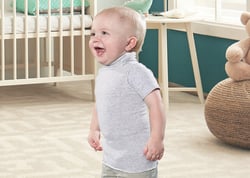 These torso interfaces are made from super soft yarns and are completely seamless to reduce irritation and rubbing from contact with the brace. Moisture-wicking and antimicrobial properties keep the patient dry, protected and comfortable. To reduce wrinkling and bunching, the shirts fit snug against the body with outstanding stretch. Knit-Rite customer Brett E. called Knit-Rite's torso interface "the best tank tops for scoliosis!" Knit-Rite customer Lila R. agrees, stating she purchased several Lightweight Torso Interface V-Neck Tanks with Left Axilla Flap for her 14-year-old son who wears a Boston brace for scoliosis. "They are excellent quality."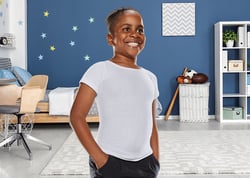 The torso Interface from Knit-Rite also comes in two weights: original weight and light weight. The original weight torso is slightly heavier than a t-shirt, providing cushioning and protection to the wearer. The lightweight torso is thinner, providing a cool garment in warmer temperatures.

Learn more about Knit-Rite's torso interfaces:


See also:
Knit-Rite's Soft-Sock Lifts Runner to New Levels
The Clinical Minute: Knit-Rite Liner-Liner Prosthetic Sock Overview with Jak Kesselring, CO, MSPO
The Clinical Minute: Knit-Rite Soft-Sock Multi-Pack with Jak Kesselring, CO, MSPO