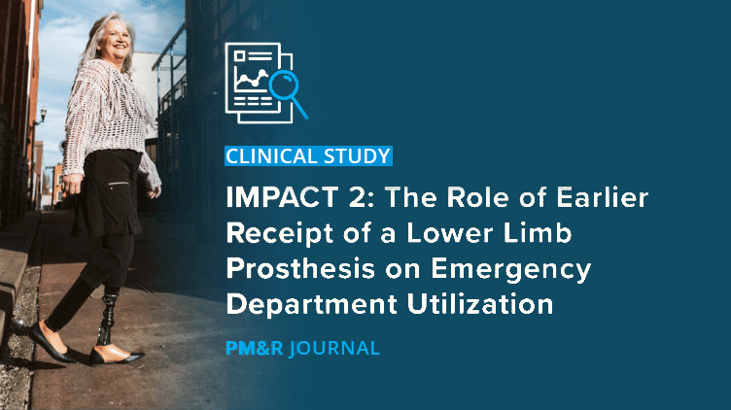 A study conducted by Hanger's IMPACT series exploring the impact of receipt of a prosthesis on overall healthcare utilization has been published in PM&R, the Journal of Injury, Function and Rehabilitation. The study was conducted by Shane Wurdeman, PhD, CP, FAAOP (D), and Taavy Miller, PhD, CPO, members of Hanger Clinic's Clinical and Scientific Affairs Department, along with researchers from the University of North Carolina at Charlotte's Department of Health.
We're excited to share their findings with the O&P community to assist clinicians in making informed decisions that benefits the limb-loss community from a cost perspective.
Results
Individuals who received a prosthesis early, within 0 to 3 months, post-lower limb amputation were

48%

(OR=0.52 95% CI: 0.28 – 0.97)

less likely to use the emergency department (ED)

compared to those who did not receive a prosthesis across all age groups.
The

percentage of ED use

as a measure of overall healthcare utilization, appears to have an

upward trend as the time from surgery to prosthesis receipt increases

(figure 1).
Individuals who experienced a fall/fx had 2.8 (OR=2.86 95% CI: [1.23-6.66]) times the odds of ED utilization.
The predicted probability of healthcare utilization across all ages stratified by timing of prosthesis receipt also

visually demonstrates the increased utilization as prosthesis receipt is delayed or no prosthesis within 12 months

(figure 2).

Figure 1: Comparison of percent of emergency department (ED) use that changes based on timing of prosthesis receipt proportional to group size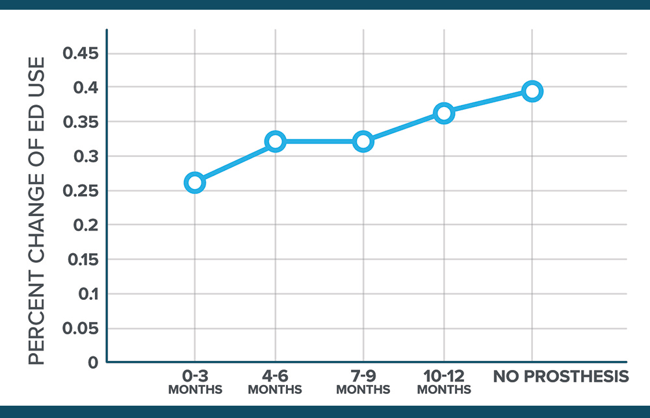 Figure courtesy of Hanger Clinic
Figure 2: Predicted probability of ED use versus age stratified by time to prosthesis receipt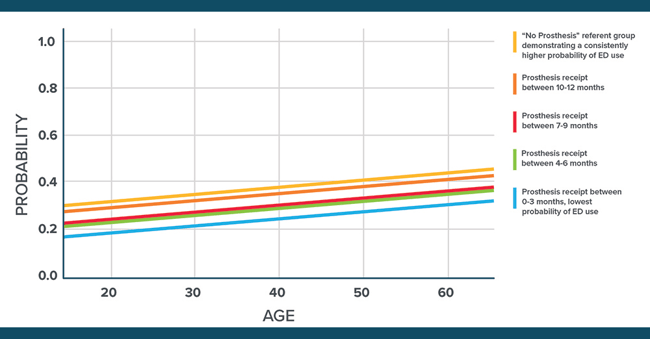 Figure courtesy of Hanger Clinic
Conclusion
Receipt of a prosthesis reduces the risk of emergency department use and therefore may reduce overall healthcare utilization.
If an individual is provided a prosthesis earlier in the rehabilitation process after lower limb amputation, there is increased value and opportunity to avoid preventable healthcare utilization and further reductions in quality of life.
Occurrence of adverse events, i.e. fractures and falls, are drivers of increased healthcare utilization, as opposed to chronic health issues.
The current study underscores the value of prostheses during the rehabilitation process after lower limb amputation.
Click below to read more.
Previous IMPACT Study:
IMPACT Study: Impact of Time to Receipt of Prosthesis on Total Healthcare Costs 12 Months Post-amputation