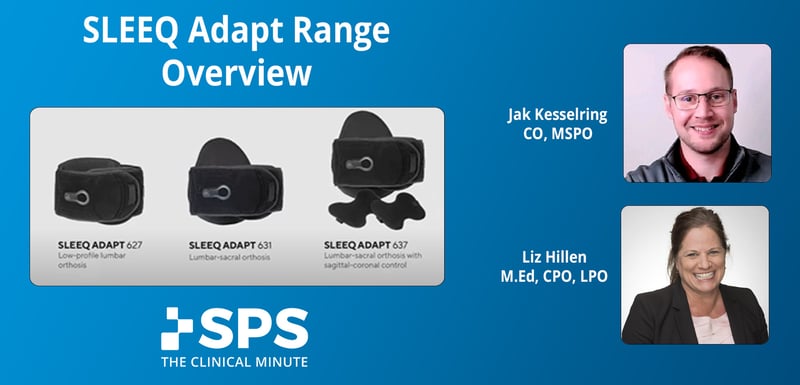 Thuasne USA's Director of Clinical Education Jak Kesselring, CO, MSPO, joins SPS Clinical Marketing Consultant Liz Hillen, M.Ed., CPO, LPO, on The Clinical Minute to talk about the SLEEQ Adapt range, including the SLEEQ Adapt 627, SLEEQ Adapt 631, and SLEEQ Adapt 637.
As the name suggests, the SLEEQ Adapt range is comprised of adaptable parts, including the anterior and lateral panels. The panels can be adjusted according to how the patient is presenting.
Product Overviews

SLEEQ Adapt 627 (PDAC-approved L0627/L0642) is a low-profile lumbar orthosis that is the least rigid in the SLEEQ Adapt range. The low-profile design addresses lumbar orthosis indications. An anterior panel can be added to deliver anterior and posterior support.

SLEEQ Adapt 631 (PDAC-approved L0631/L0648) is a lumbar-sacral orthosis with posterior support. For more rigidity, additions can be added such as the lateral and anterior panels.

SLEEQ Adapt 637 (PDAC-approved L0637/L0650) is a lumbar-sacral orthosis with sagittal-coronal control. Along with the lateral and anterior panels, the 637 comes with an interior panel that can be attached to the front.
Sizing Adjustments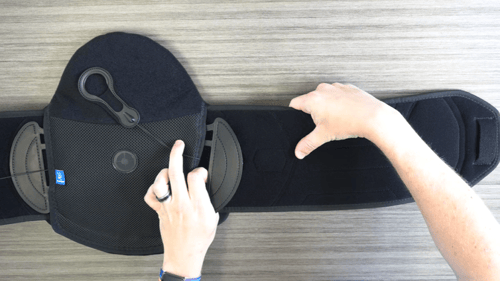 The straps are universal in sizing to help clinicians reduce the amount of product that needs to be stocked. To adjust the 25" to 65" sizing on the SLEEQ Adapt 627, 631, and 637, open the waist belt and place the brace facing downwards to view the posterior side. Lift the Velcro on the crescent connectors, and slide the brace belt in or out depending on the patient's waist circumference.

The SLEEQ Adapt EXT is available to extend the sizing to 57" – 65".
Rigidity Adjustments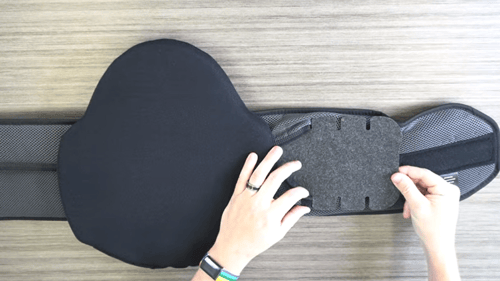 Open the waist belt with the anterior side facing you. Inside the waist belt, you will find felt panel supports that can be trimmed for the patient.

For additional support, rigid side panels can be tucked inside the waist belt, or lateral support panels can be attached. The anterior panel can also be detached and replaced with a superior panel. The SLEEQ Adapt range has many permutations to help clinicians provide patients with the support they need.
The SLEEQ Adapt range empowers clinicians with a great level of customization options. For questions about the SLEEQ Adapt, leave a comment below or email the Clinical Services Team.

Sign-up for the SPS email newsletter to receive the latest news, happenings, and promotions.
Click the button to browse the SLEEQ Range on the SPS Online Store:
See also: