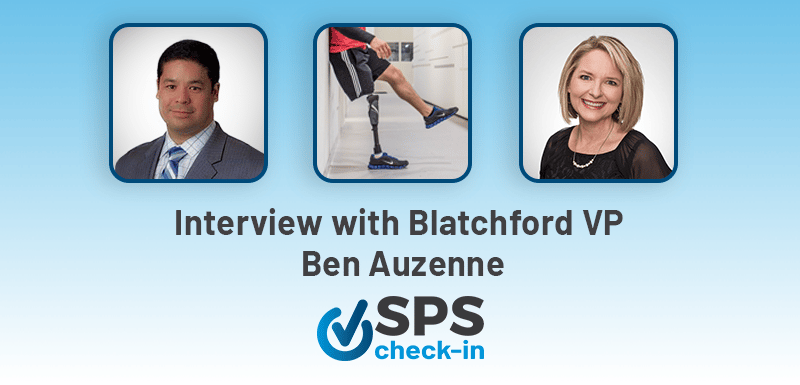 This article was originally published November 20, 2020.
Welcome to the 7th episode of The SPS Check-in. In this video, SPS President Regina Weger interviews Blatchford's VP of Sales & Marketing Ben Auzenne. In this interview, Ben discusses the current regulatory changes impacting the industry, his experience joining the Blatchford team during a pandemic, and the concept of "Biomimetic Design."
The following includes a lightly edited transcript of their conversation:
Regina: I would like to welcome Ben Auzenne, the new Vice President of Sales & Marketing for Blatchford US. Ben, I would like to give you the opportunity to introduce yourself. I'm sure joining our industry during a pandemic has been quite the learning process.
Ben: Good afternoon, Regina. I appreciate the chance to join The SPS Check-in.
I'll start by sharing a little about myself. First and foremost, I'm a dad. I've got a 16 year old and a 13 year old daughter. My wife Michelle and I live in Louisville, Kentucky. My family are the most important people in my life.
I'm new to prosthetics. I've been here for a whopping five months. I discover something new every day. I learned a long time ago that health care was individualized to the person. At Blatchford, we partner with our clinicians so they can truly deliver individualized care to meet each patient's specific needs. I'm happy to be a part of the process
Regina: Tell me more about your role at Blatchford. Where do you see Blatchford going in the future?
Ben: I have the privilege of being responsible for sales and marketing for Blatchford's North American commercial operations. It's exciting because we get to talk about the latest and greatest innovations, and how Blatchford's 130-year legacy will continue to be defined as we move into the future.
What do we do here at Blatchford? We're known for a lot of firsts. In the 70s, we created the first modular assembly prosthesis. In the 80s, we had the world's first carbon-fiber prosthetic system. In the 90s, we introduced the first commercially available prosthetic knee. Of course, we're known today for our integrated limb, the LINX. That spirit of innovation will continue. One of the things that we pride ourselves on is the connection to the human body, we call it "biomimetics". That means being as close to human anatomy as possible. You can expect more of that in our future products.
Our pipeline has strengthened during the past couple of months. We launched two new products during this pandemic. We introduced the ElanIC, which is the smallest, most lightweight microprocessor foot on the market. We also launched the EchelonER. We are going to continue this innovation pipeline. The leadership that we have in our R&D team, this legacy of firsts, this innovation, is going to continue.
Regina: That's great. You started this new role during the pandemic and you're also working with regulation changes. I can't imagine it has been an easy transition, but it sounds like you've dug-in and wrapped your arms around it.
Ben: Credit goes to the team here at Blatchford. This is certainly not an individual effort. Our operations team, led by Simon Loyns, is doing a tremendous job. One of our primary goals at Blatchford has been to maintain the safety of our employees. We recognize that while we travel frequently and interact with patients and clinicians it's imperative to keep everyone safe.
There are three significant factors right now facing this market. 1) the PDAC regulations; 2) we've got audits that are taking place within our marketplace, and 3) on December 1, all of those six codes that were under review require prior authorization. Thanks to the deep level of expertise from the teams in the US and overseas, we decided right away to put our products in the system as soon as possible. The SmartIP, Orion3, the LINX, the Elan and ElanIC and our Elite line have all received PDAC verification.
Regina: What have you learned during this transition that you feel benefits practice owners?
Ben: Regarding regulation, I came from a highly regulated business and it's essential to know that codes and policies can be your friend. That's one reason we stepped forward and attacked it right away. We wanted to embrace the regulations that are out there—and together, we can advance that regulation. We're developing relationships each and every day within Blatchford. We want to make sure that as the industry evolves, we help drive it towards improving patient outcomes. This is one of the great reasons we have a strong partnership with SPS. Together we can help improve patient outcomes for the long term.
Regina: Is there anything you would like to share that the O&P community does not know about Blatchford?
Ben: What else is there to know about Blatchford? We've been in the industry for 130 years and our headquarters is located in the United Kingdom, but we have a strong presence here in the United States. Our products are designed to enhance human technology and we take pride in creating pieces that mimic the human anatomy. For example, here's a story about one of our young female patient ambassadors named Julie. She told us when she received her ElanIC that she felt she had her ankle back because of the human-technology interface's biomimetic design. Our goal is to make sure our patients' prosthesis mimics their natural anatomy as closely as possible. For Julie, that made all the difference in the world.
Regina: What does the future look like for Blatchford? If you had a crystal ball, what does the future look like?
Ben: The future looks like diving into this human-technology interface. We want to look at our portfolio today and continue to advance the connection between today's technology and patient outcomes. Imagine the day when we're able to work with patients and they can use their devices every day, regardless of their daily activity. That's what we're striving for and we're going to be there sooner rather than later.
Regina: Thank you so much for your time today and being on the SPS Check-in. I feel like we've learned a lot more about Blatchford, and I'm so grateful to know more about you. Best of luck to you, Ben, and thank you for your time.
Ben: Thank you so much, Regina. Blatchford is proud to be your partner.
Regina: Take care.
We are so thankful Ben took the time to share Blatchford's unique perspective. See below to explore more Blatchford:
Blatchford's ElanIC Microprocessor Hydraulic Ankle Overview
The Clinical Minute: Blatchford Orion3 Microprocessor Knee
Click the button below to browse Blatchford inventory.
Sign up for our email newsletter to receive the latest news, happenings and promotions from SPS!
See also:
SPS Check-in: Discussion on Backorders and Manufacturer Supply Chain Challenges
SPS Check-in: Interview with VP of Operations Coleson Chase
SPS Check-in: Jamie Seabold Interviews FabCo's Nick Gambill and Amputee Associates' Zach Webber
SPS Check-in: Interview with Hanger President and CEO Vinit Asar
SPS Check-in: Interview with Fillauer President, Traci Dralle
SPS Check-in: Interview with Frank Snell, President of Snell P&O
SPS Check-in: Interview with VP of Procurement Eric Craig
SPS Check-in: The CARES Act and What It Means for Your O&P Business
SPS Check-in: COVID-19 Update and CMS Changes