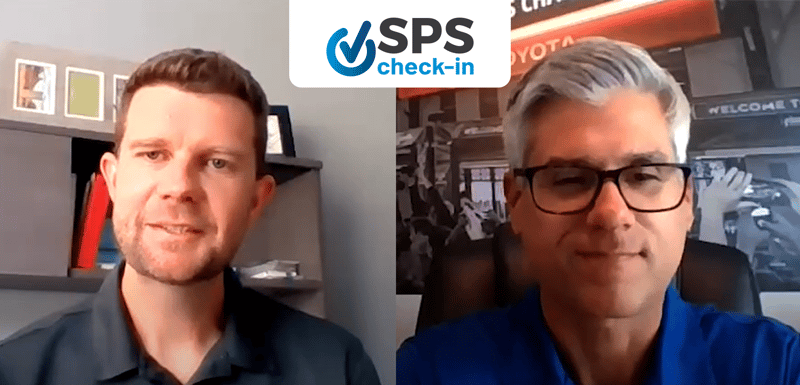 Welcome to the 9th episode of The SPS Check-in. In this video, Sales Director Jamie Seabold chats about the hurdles of the past 14 months with Vice President of Operations Coleson Chase. They cover efforts to streamline shipping and reveal new updates coming to the website.
The following includes a lightly edited transcript of their conversation:
Jamie: I'm Jamie Seabold and welcome to The SPS Check-in! I'm joined today by my SPS colleague, Coleson Chase.
Alright Colson, why don't you tell the folks a little about yourself?
Coleson: I'm the Vice President of Operations here at SPS. I've been with the company for about 3 ½ years now. I oversee business operations and lead the Sales, Marketing and Clinical teams.
Jamie: In that 3 ½ years we've certainly seen a lot, haven't we?
Coleson: Yes we have! It's been an active industry to say the least.
Jamie: Let's dive into it. Can you describe the current landscape that SPS and many other businesses in O&P are operating in?
Coleson: More and more people are getting vaccinated. Businesses are recovering as the economy opens up. As we know, stay-at-home orders brought about a huge change in buying patterns. People shifted to ecommerce in record numbers. That trend is really not subsiding at this point. The stress that has been put on supply chains and parcel carriers, like FedEx and UPS, has been pretty extreme. It's basically been the holiday shopping season on steroids for 14 months. You combine that with the recent labor shortages, port delays, PPE protocols, and it culminates in a very challenging environment.
Jamie: In your opinion, how has this impacted the O&P industry?
Coleson: Unfortunately, it's impacted O&P more than any of us would have liked. FedEx and UPS drivers have more packages to deliver, which means that sometimes our customers' packages are arriving later in the day. Sorting hubs are short on labor as well, which is causing additional delays for packages. On the manufacturer side, we're seeing some of the same challenges for our customers. Unfortunately, it has meant that packages really are taking longer to arrive than our customers are used to.
Jamie: What has SPS done to combat the challenges customers are experiencing?
Coleson: First, let me let me say how proud I am of our team. Over the past 14 months, everyone has really adapted to support our customers through this tough time. The clinical team transitioned quickly to provide more assistance digitally. The sales and customer service teams worked tirelessly to help customers adapt to the changes. Of course, the distribution teams came in every day through it all to get everything picked, packed, and shipped out the door. I really couldn't be more proud to be part of the SPS team.

We've continued to invest to make sure that we're able to deliver more value to our customers in the long term. One of the key areas is our new Alpharetta distribution center. We started shipping out of there in March and now we're fully up and running. The new location is just down the road from where we were before, so we're able to keep the same team. The move doubled our square footage, meaning we have more room for products. By year end, we're going to be at 30,000 SKUs. For our customers, that means more items delivering in one box.
Jamie: I've seen some cool things in the distribution center. What can you tell us about the technology?
Coleson: A key thing that we've added is our new warehouse management system (WMS). It's the system that our distribution center uses to pick, pack, and ship out all of our orders. It took a bit of adjusting to get it implemented well, but we're now shipping 98.5%+ of our orders out same day and our picking accuracy has increased about 50%.
Additionally, we now have two Pack Size machines. These machines create the box based on the dimensions of all the items in the shipment. Ultimately, we're now working toward fewer boxes and smaller boxes for our customers—and it's more efficient.
Jamie: Coming back to the parcel carriers—obviously that's been another struggle. FedEx and UPS are now investing billions of dollars to increase capacity into their networks right now.
Coleson: They sure are! We're all glad to see that. It's probably going to take them a while to get to the level where they can meet the demand of today. All throughout the pandemic, they've been hiring, adding additional equipment and vehicles, and building new facilities.
Jamie: Absolutely. Speaking of investments, we've been investing in our website. What can you tell us about that?
Coleson: We implemented an enormous project to replace the back-end infrastructure of our SPSCO website. Now we're focusing heavily on creating new functionality. One of the first features that we're launching in a few weeks is the ability to pay invoices online.
Jamie: Very exciting! So the bottom line is that the pandemic has certainly created some challenges and some obstacles for us to overcome. SPS will continue to invest in our future.
Coleson: Fully agree. We're not out of the woods yet. The supply chain is still seeing challenges with demand, but we're working together with our customers and partners to ultimately support the patients. We're making sure they get what they need when they need it.
Jamie: Well, that's certainly does it for our time. Thanks for chatting with me today, Coleson.
Coleson: It's been a pleasure.


View more SPS Check-in videos:
SPS Check-in: Jamie Seabold Interviews FabCo's Nick Gambill and Amputee Associates' Zach Weber
SPS Check-in: Interview with Fillauer President, Traci Dralle
SPS Check-in: Interview with Frank Snell, President of Snell P&O
SPS Check-in: Interview with VP of Procurement Eric Craig
SPS Check-in: The CARES Act and What It Means for Your O&P Business
SPS Check-in: COVID-19 Update and CMS Changes
Sign-up to receive SPS updates, promotions, and more!