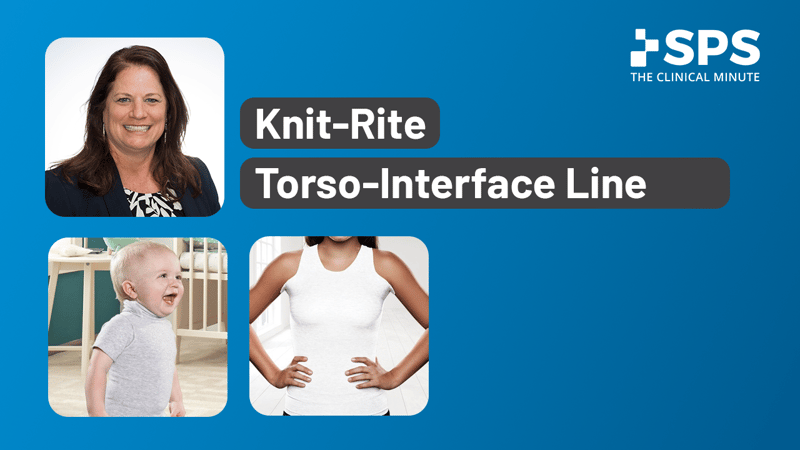 In this episode of The Clinical Minute, Senior Clinical Education Specialist Liz Hillen, M.Ed., CPO, LPO, explore a clinical solution that prioritizes comfort and compliance for patients who require a spinal orthosis—the Torso-Interface by Knit-Rite.
Slightly heavier than a t-shirt, the Torso-Interface is a seamless garment with finished edges and high-stretch qualities in all directions. The stretchy material enables it to accommodate a broad range of patients with fewer part numbers, simplifying the fitting process for clinicians.

Constructed with a blend of polyester, COOLMAX®, and Ionic+™ fibers, these advanced materials work together to keep the skin dry and minimize odors, enhancing the overall experience for the patient.

Another notable aspect of the Torso-Interface is its versatility. Not only does it excel as a comfortable undergarment for spinal orthoses, but it can also be used for casting purposes during the orthosis creation process. The machine-washable feature also adds a layer of convenience for the patient.

Recognizing that each patient has unique needs, the Torso Interface comes with a range of options. Whether a v-neck, axilla flaps, crew neck, crew neck with sleeves, strapless, turtleneck, or lightweight version is required, Knit-Rite has carefully considered every possibility. This variety allows you to tailor the solution to the specific requirements of each patient, ensuring optimal comfort and compliance.

The Knit-Rite Torso-Interface's seamless design, advanced materials, and versatile options make it a valuable asset for clinicians striving to enhance comfort and compliance for their patients.

The Torso-Interface line is available on the SPS Online Store:
Have a question about the Knit-Rite Torso-Interface line? Leave a comment below or email the Clinical Services Team.